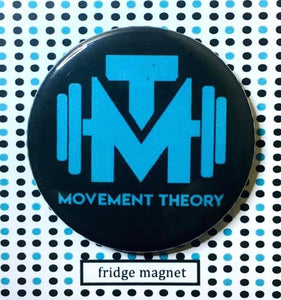 Movement Theory-Custom Gallery
MOVEMENT THEORY
Ashley's brother Chris is also an entrepreneur. Chris is in the fitness industry. He's taken his career as a successful personal trainer to the next level. He just started his new business, Movement Theory, in the Boston area. But yes, he is available for remote sessions!
His individualized personal training includes nutrition, weight loss, strength, meal prep and menu design. He ordered some logo magnets to use for holiday handouts.
Check out his website. movementtheorybos.com
Magnets are 2.25 inch diameter. Made in USA. Click the wholesale button on the bottom right of every page for special pricing. $100.00 minimum. 
Testimonial from Chris
 "Diane made a conscious effort to make my magnets perfect with several revisions and color changes she even asked if I wanted them to be specially packed with writing on the back. Magnets arrived fast and all safe. Thank you for the wonderful magnets."