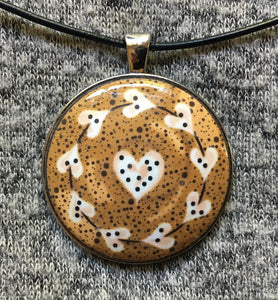 Focus on Coffee Lovers-Latte Love Coffee necklaces
One good lift deserves another-so the "Focus on Coffee Lovers" collection lifts latte art up to a new level-to add a warm and beautiful accent  to any outfit.
The coffee lovers collection features original graphic designs by Indigo Moon Collections. 
These necklaces are handcrafted in the USA. The painstaking process involves preparing a wood cabochon, overlaying a print of the design, then sanding and varnishing repeatedly until the richest satin sheen is achieved. 
They will arrive in a jewelry box tied with soft satin ribbon and a blank gift tag. The story about the piece is inserted in the box.  
The pendant measures 1.5  inch diameter. The leather cord together with the clasp measures 16 inches. This is the most flattering length and the pendant lies right between the collarbones. However, some ladies do have fuller necks and may need the 18 inch size. The price is the same.
Also available in pumpkin spice or green tea :)