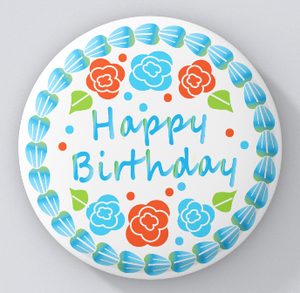 Chattacakes-Happy Birthday-Vanilla w Blue Icing-magnets in bakery box
 "Cakes" without the side effects! 
 Express warmest wishes with Chattacakes fridge magnets.
 Each 2.25" diameter magnet is presented in a tiny 2.5 inch bakery box with a window. Classic bakery twine completes the package.
 For greetings choose: Happy Birthday, Congratulations or Best Wishes. 
 For "flavors" choose: Vanilla with pink icing, Vanilla with blue icing, chocolate with multi color icing, or chocolate on chocolate.
Magnets, package insert and twine are Made in USA. Box imported from China. 

Also available with standard inserts for $7.00 
Note~To avoid fading, do not use in a place with direct sunlight.