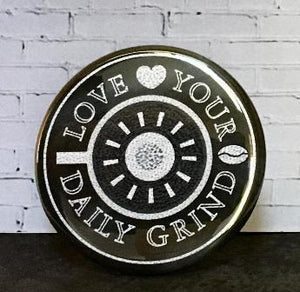 Chalkboard Cafe-Love Your Daily Grind-desk poppers
The Chalkboard Cafe Collection pays homage to chalkboard artists. It also  expresses our love-often to the point of obsession-with a seriously great cup of coffee.
 It's important to remember to be grateful for what we have.
That said, if the daily grind is that unbearable, coffee can push us to make some changes!
Clear plastic easel back stand. 2.25 inch diameter.

Made in the USA.
Note~To avoid fading, do not use in a place with direct sunlight.