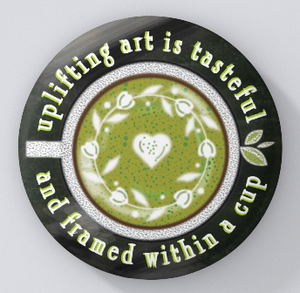 Chalkboard Cafe-Latte Uplifting Art (tea) magnets
The Chalkboard Cafe Collection pays homage to chalkboard artists. It also  expresses our love-often to the point of obsession-with a seriously great cup of coffee.
Baristas have taken the art of coffee making to a whole new level! 
And isn't great art always in good taste?
2.25 in diameter. Handcrafted. American Made. 
PS-Also available in regular coffee.
Note~to avoid fading, do not use in a place with direct sunlight.