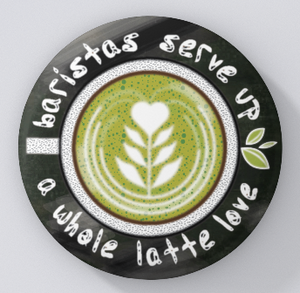 Chalkboard Cafe-Baristas Serve Up a Latte Love (tea) magnets
The Chalkboard Cafe Collection pays homage to chalkboard artists. It also  expresses our love-often to the point of obsession-with a seriously great cup of coffee.
Baristas have taken the art of coffee making to a whole new level! 
Show your favorite barista some love with this super strong fridge magnet. 
This matcha green tea motif delivers the promise to keep those tea drinkers who walk among us happy :) 
2.25 in diameter. Made in USA
PS-Also available in regular coffee.
Note~to avoid fading, do not use in a place with direct sunlight.