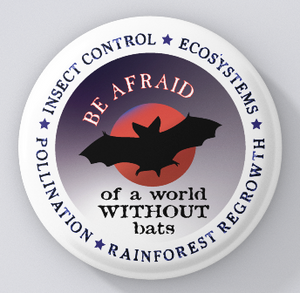 Bat Rescue-Be Afraid! Special Edition-pins
Since 1994 Bat World Sanctuary has implemented creative ideas and operations to rescue bats and promote awareness. 

This special edition of "Be afraid! Of a world without bats" is an existing bat rescue design customized by BWS with their own text and a couple of other tweaks! 
You can purchase this exclusive customized design (available in magnets or pins) as well as other awesome bat themed merchandise at batworld.org 
Indigo Moon Collections will donate 30% of your purchase of fridge magnets or badge pins featuring any bat design to Bat World Sanctuary. 
Be sure to visit batworld.org to learn more and to support their award winning rescue work!
Note~to avoid fading, avoid constant exposure to direct sunlight.