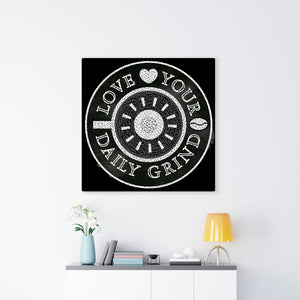 Love Your Daily Grind-stretched canvas wall art-asst sizes
The Chalkboard Cafe Collection pays homage to chalkboard artists. It also expresses our love-often to the point of obsession-of a seriously great cup of coffee. 
"Love Your Daily Grind" was inspired by the saying, "When we're well there's a million things we want. When we're not, there's only one thing we want." 
That said, if your daily grind is truly miserable, coffee can fuel some changes!
This canvas is great for the kitchen, and especially for a dedicated coffee station.
Also a beautiful accent for the office or employees lounge. 
Of course the largest size would beautify any indie coffee shop! 
Not available for wholesale at this time.
* 100 % cotton canvas (400 gsm) with closed cardboard backing 
* Solid support face
*For indoor use only